January 2014: New Machinery for Fire Protection Lines
New machinery (loader and excavator) arrived in Lautoka for further shipment to our properties in Vanua Levu. They will be first commissioned to create fire protection lines in order to protect the newly planted seedlings from bush fires in the next dry season.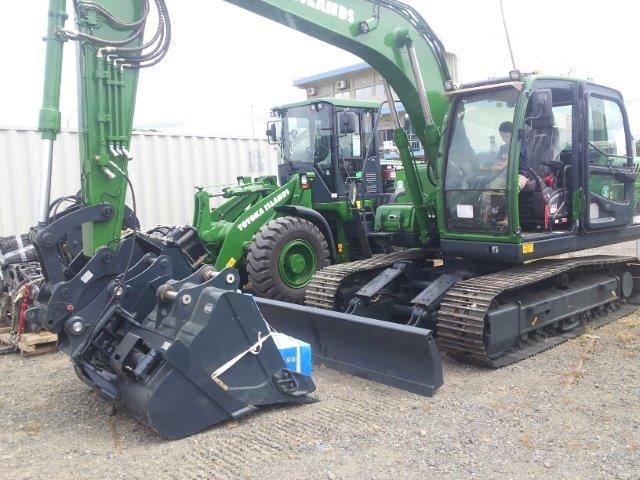 December 2013: New Nurseries started in Kadavu
Following the successful creation of nurseries on the properties in Vanua Levu, we started new nurseries in Kadavu which were populated with seedlings recently created there.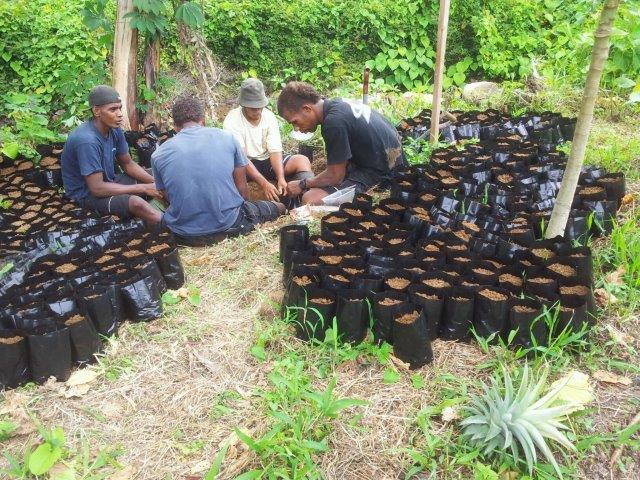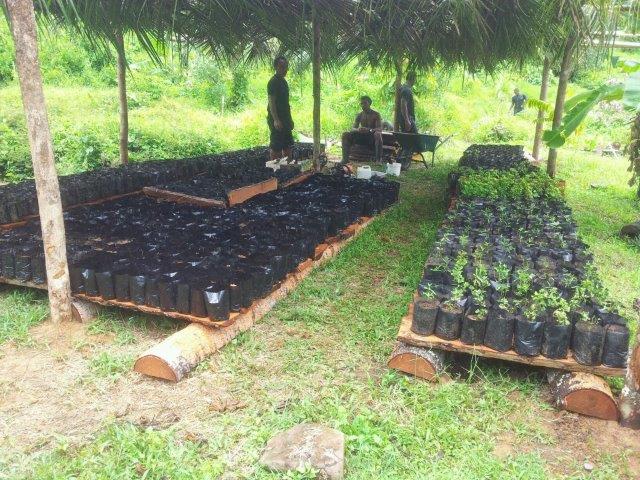 December 2013: Boatmaster Training for Staff in Kadavu
A Boatmaster Training was conducted for all 5 new employees in Kadavu. The training was conducted by two officers of the Maritime Safety Authority of Fiji who came onsite to our property in Kadavu.
We would like to thank the Maritime Safety Authority of Fiji for their support of our Boatmaster Training program in such a remote area as Kadavu.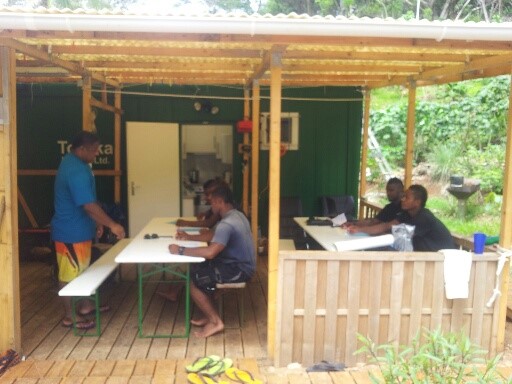 November 2013: Seedlings arrive from Forestry Department Labasa
New seedlings arrive from Forestry Department Labasa to be planted in the wet season along with the seedlings that were created in the companie's nurseries. The species planted include popular tropical hardwood such as Mahogany and Teak but also indigenous species such as Sandalwood (Santalum Yasi) and Vesi.
At this opportunity we would like to thank the Forestry Department Labasa for excellent support and advice regarding
selection of seeds and seedlings in indigenous rain forests

germination of seeds

creation of nurseries

growing of seedlings in nurseries

planting of seedlings in deforested grasslands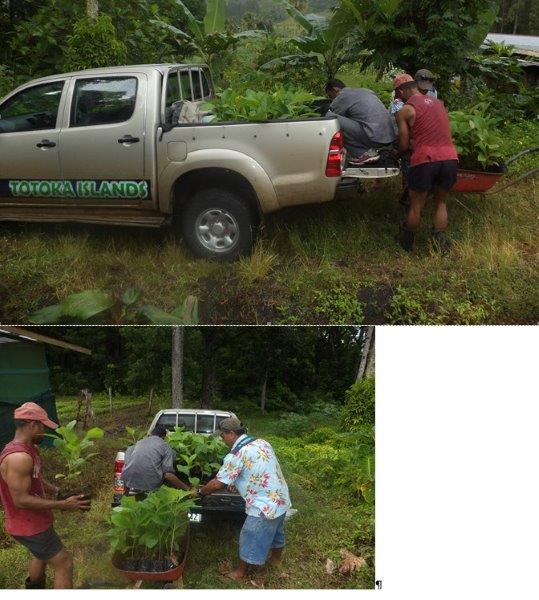 August 2013: Registration of Seedlings and Trees started
As part of its Sustainable Forest Management Program, Totoka Islands started to build up a registry of existing and newly planted trees.  
Each tree receives a unique identifier. It's geographic position, species, height, diameter and condition are being stored in the companies Resource Management Program.
The registry will be updated on a regular basis providing the company with a true and fair view of its biological assets.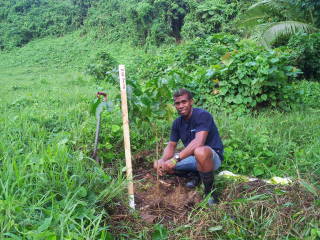 August 2013: Planting of Vesi started
The planting of Vesi was started. The seedlings in this case were provided by a neighbouring village. Vesi is a native tropical hardwood tree found on the Indo-Pacific Islands. Due to intensive logging this timber became rare.
Vesi (Intsia bijuga) is a flowering tree of the pea family, Fabaceae, and is also known under the names Merbau or Kwila. It is growing to up to 40-60m height and develops 1,5m - 2m trunk diameters. The average dried weight is 825 kg/m3. The wood of Vesi is very strong and resistant against insects and well suited for outdoor use. Because of its strength it is also sought-after for use as wood flooring.
Vesi improves the soil by fixing Nitrogen from the air thereby fertilizing the surrounding area. This makes it ideal for agro-forestry.
There will be other species such as Mahogany, Teak and other indigenous Fijian timbers added to the reforestation so that a diverse forest develops.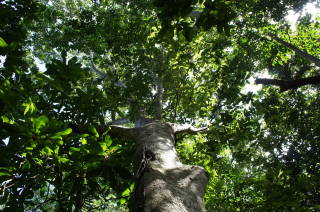 June / July 2013: Further Plant and Equipment arrives
A further shipment of plant and equipment arrives in Fiji consisting of:
Liebherr LTM 1030-2.1 Mobile Crane
Workboats
Water Desalination Plants
Water Purification Equipment
Welding Equipment
Container Trailer
...
The equipment is being shipped to the development sites. The mobile crane is being deployed for the first time in order to offload the containers from the landing barge.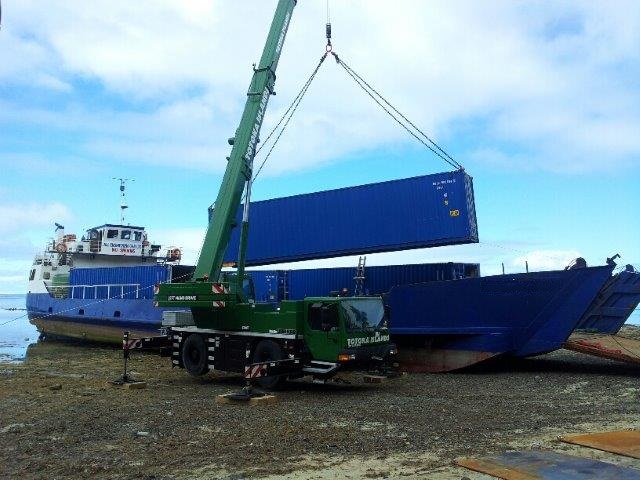 June 2013: Mobile Crane Training 
The Senior Engineer attended a one week intensive training in the operation of the new Liebherr mobile crane which was conducted by a specialist from Liebherr Australia.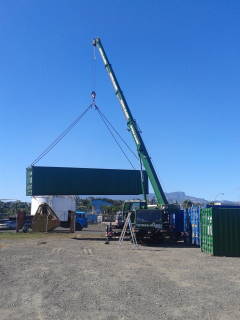 March 2013: Employee Training and new Company Car
The Senior Engineer acquired licenses to operate trucks and mobile cranes. Two employees acquired drivers permits and three employees acquired boat master licenses. A new Company Car is being delivered bringing the fleet to three cars.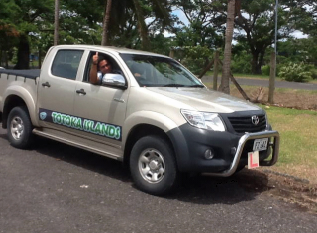 J
anuary 2013: Pilot Vegetable Plantation started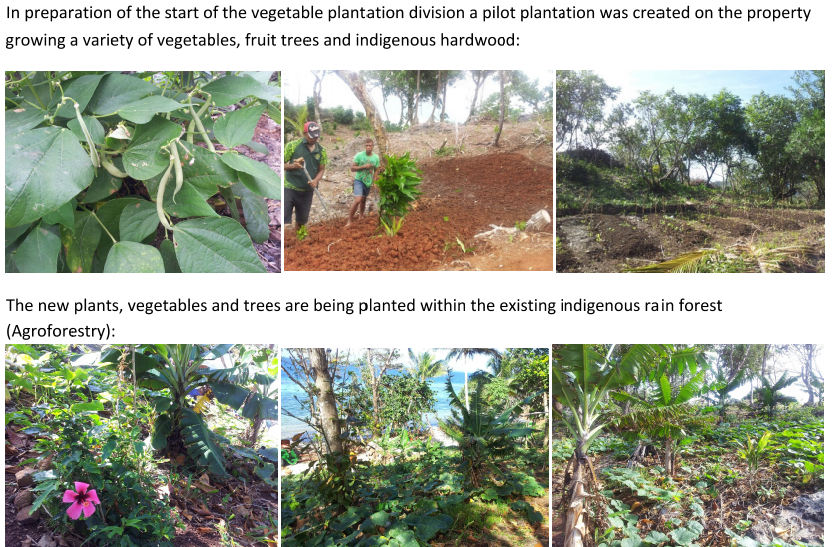 December 2012: Cyclone Evan hits Fiji
Cyclone Evan hits Fiji. The eye of the Cyclone passes over the Western Division of Viti Levu where some of our equipment is being stored. Thanks to the fact that all equipment is contained in Sea Containers, no damage is being done. The boats are safely stored on land or in the shelter of Mangroves and no significant damages are being incurred.
November 2012: Preparation of Installation for Cyclone Season
All installed equipment is being secured in preparation of the Cyclone Season starting end of November.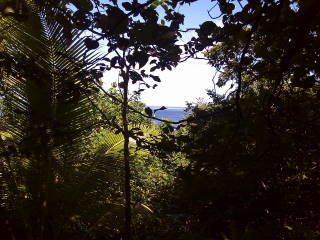 September 2012: Reforestation Program started
TOTOKA ISLANDS starts the Reforestation Program in close cooperation with the Ministry of Fisheries and Forests which provides advice, training, seedlings and seeds of various indigenous timbers.
The Program is aimed at reforestation of idle and bare lands on one of the freehold properties of TOTOKA ISLANDS in remote areas.
TOTOKA ISLANDS purchases seedlings and seeds from the Ministry of Fisheries and Forests. The seedlings are being planted in the grasslands. The seeds are being germinated and grown in nurseries under supervision of the Ministry of Fisheries and Forests.
 The long term goal of the Program is sustainable commercial forestry, basing on a natural and sustainable ecosystem of a diversified forest. Resources that are being consumed from time to time are being recreated continuously providing long-term employment and a sound long-term economic development for the remote areas.  The strategy is to selectively log trees (Sustainable Forest Management- SFM concept) when they are sufficiently grown and instantly replace them with new seedlings.
August 2012: First Shipment of Plant and Equipment arrives
The first shipment of plant and equipment arrives in Fiji consisting of:
Loader
Excavator
Mobile Saw Mill
Planing Machine
Containers containing equipment, tools and materials
Mobile Home Containers fully equipped with kitchen and bathroom and air conditioning
2 x 10 kW Solar Power plant with battery bank and inverter
Water Desalination Plant
High-Tech Sewage Water Treatment Plant
The equipment is being shipped to the development sites and installed.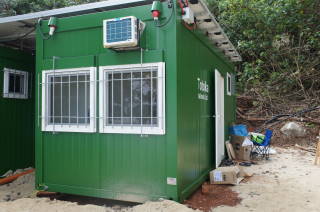 August 2012: Start of Employment of Local Specialists
The employment of local specialists has started. The new employees are being equipped with mobile Internet Access, Notebooks and Company Cars. They are receiving all necessary intensive trainings in order to operate the state-of-the-art machines, boats and equipment.
May 2012: Completion of Land Purchases
All purchases are being completed. The development on a total area of approx. 1500 acres (approx. 600 Hectares) commences. Totoka Islands (Fiji) Ltd is being registered.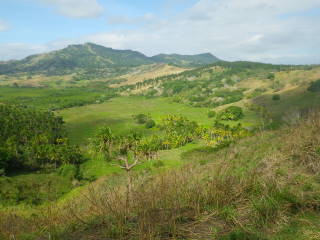 August 2011: Follow-on Trip to Fiji
Based on the positive impressions of the first journey to Fiji, the search for large freehold properties is being intensified and a second trip to Fiji is being done.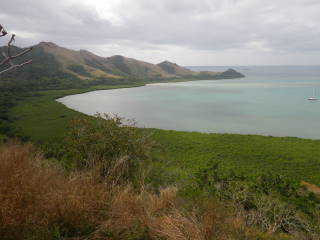 May 2011: First Trip to Fiji
After arranging for inspections of several properties, we visit Fiji for the first time and are amazed by the beauty of the countryside, the reefs and last but not least the friendly and open-minded people of the Fiji islands. Given the fact that all properties are in remote areas and have no proper road access, all properties are being visited by boat.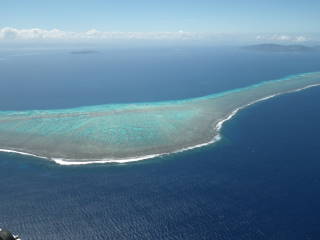 January 2011: Search for Land
The idea to invest in a forestry and farming development in the Tropics is being born. We conduct an in depth research of the tropical belt around the globe applying the following criteria:
Availability of large Freehold Land with reliable Title Registry
Low Crime Level
Stable Legal System, preferably English Law
No Malaria
It soon turns out that only Fiji meets these criteria. The search is being narrowed down to freehold properties in Fiji. The first trip to Fiji is being planned.